We've decided our next Search and Rescue dog will be a French Spaniel.
The Breeder, Elvage Derio Grande, http://www.deriogrande.ca/,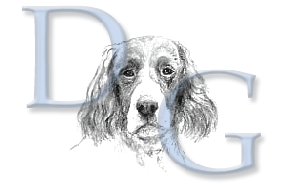 is in Pointe-Verdi Canada and has sent photos and videos which are posted here.
The French Spaniel is an intelligent dog that looks to please its owner. It responds well to positive treatment and repetitive lessons. It is a calm loving hunting companion and makes a wonderful house dog. They are very versatile hunting dogs that will pursue, point, track and retrieve game on land or water, but as will most of the pointing breeds, the French Spaniel's true strength is hunting in fields and forests. They are tough, determined dogs that can adapt to all types of terrain.
We have 4 females to choose from. Our choice is? Puppy #3
All Puppies Video Female Puppy #3
We took a vacation and went to Canada to pick her up. We got her at 10 1/2 weeks and named her Élan Chercher (Willful Searcher). She is definitely a bundle of energy, but is smart and quick to learn.
Here's a short video of her training.
Here's another one of her training around our house.

Christmas 2009
Happy Birthday to Me, Happy Birthday to Me.
One year old today

Elan and Hollie curled up on the couch.

Checking out our backyard

Elan got hold of something. Her nose and eyes were swollen about twice their normal size.
Crashed in the recliner

So abused and overworked. LOL

Some shots of E'lan after her elbow fusion surgery.
Right now she's staying at the vets for a couple of days. She's being kept on IV pain killer and antibiotic.

Elan and Brice with Santa, 2017
Brice, Elan and Josette have taken over Josh's bed.